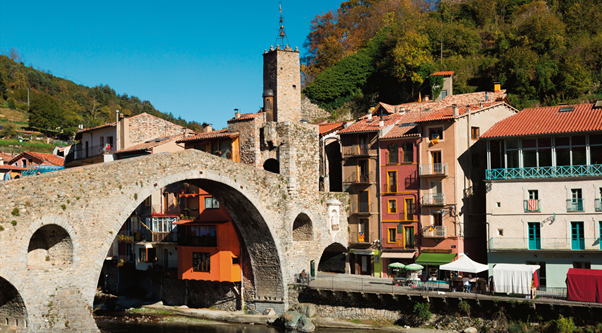 There are very few regions in Catalonia that concentrate so much attraction in their territory. A getaway to Ripollès means that you can visit the immense mountains that are part of the Pyrenees, also thanks to its routes and magnificent adventure sports everyone can enjoy this getaway. That is why, in today's article, from Our Guide in Barcelona we will explain a little more about the wonderful region of Ripollés.
Do you want to know more? Here we go!
History of Ripollès
Did you know that the Ripollés has existed for more than 150,000 years? Well, yes! They found stone instruments, horn needles and other figurative engravings that confirm the existence of settlers in Ripollès since the lower Palaeolithic, more than 150,000 years ago. Being located in the northern half of Catalonia was a county of the "Catalunya Vella" (Old Catalonia) in which the Muslims stayed only a few years,  contrary to the southern half ,"Catalunya Nova" (New Catalonia) in which they were almost 300 years, in the IX, X and XI centuries.
The Ripollès
The capital of this region is the city of Ripoll, also known as the Cradle of Catalonia. One of the cities that you can not miss if you are going to visit the Pyrenees!
This region is located between the rivers Ter and Freser, and has a great tourist attraction due to its wonderful monastery, the monastery of Ripoll, a jewel of Romanesque Art, built by Guifré el Pilós, who had a great importance during the Middle Ages in that city.
What can be seen in this region?
1.    Monastery of Santa María de Ripoll
It is a Benedictine monastery that was founded around the year 880 by Count Guifré el Pelós to repopulate the Ripoll valley.
2.    Camprodón
Only 20 minutes from the town of Sant Joan de les Abadesses we find Camprodón, the most touristic town you can find and visit in Ripollès. This small town manages to make everyone fall in love with its beautiful historic bridge built during the twelfth century, in addition to all its shops, whether bakeries, delicatessen, etc., where delicious products and sausages from the area are sold.
3.    Natural Park of the Cabeceras del Ter and Freser
You can find it only half an hour by car from Ripoll, and it offers a unique environment of landscapes with valleys and views of the higher mountains of the Pyrenees, with summits of  almost 3000 meters.
In this natural park we can find routes to climb the mountains such as the famous climb to the top of Puigmal, the second highest mountain in Catalonia.
In addition, this park surrounds the entire Núria Valley, which is very popular among Catalans for the historic sanctuary of the Mare de Déu de Núria and for having a small but charming ski resort.
The Núria Valley is only accessible through a rack railway that leaves from Queralbs or from Ribes de Freser, or, for the ones who love trekking, you can also leave the car in Queralbs and ascend on foot in an excursion of more than 3 hours and more than 800 meters of accumulated slope. In short, a place of reference in Catalonia, ideal to spend a day with family or friends and enjoy nature.