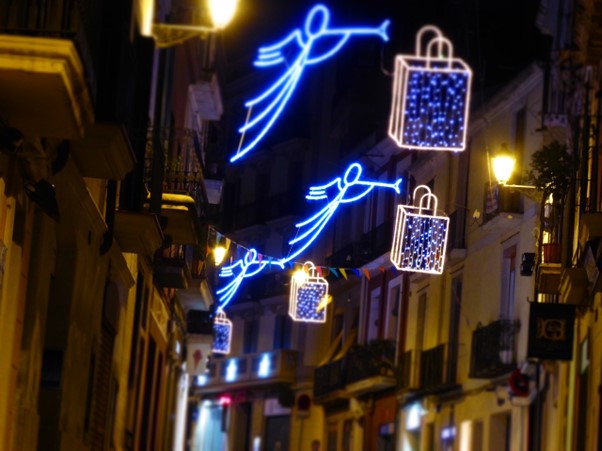 Barcelona is a magnificent city to visit this Christmas. Due to the charm of the city and all the Catalan traditions, you will get a unique experience, whether you travel alone or as a couple, with friends or family. Do you want to know more about what is happening in Barcelona in December?   We tell you about it in Our Guide in Barcelona.
Here we go!
What is happening in Barcelona in December?
1. Caga Tió
It is one of the most anticipated traditions every year by the little ones in Catalonia, it is called "Caga Tió" and is usually celebrated on the night of December 24.
The Tió de Nadal is a wooden trunk that wears a typical Catalan barretina (traditional hat), two legs, a smile and a blanket.
But what is the grace of a trunk?
It is tradition that the little ones take care of him the days before Christmas Eve, wrapping him up and offering any type of food so that he can bring gifts on the festive night. The children must stick with a cane to the Tió singing a song so that he "shits" some of the Christmas gifts.
2. Barcelona's Christmas Markets
As soon as the month of December begins, the city already dresses up and you can enjoy the Christmas lights of the city while you walk through the main streets, such as Paseo de Gracia or Plaza Cataluña.
In addition, from Our Guide BCN we recommend you visit the Santa Llúcia Fair, which is held every year in the Plaza de la Catedral in Barcelona, during the first weeks of December.  You can find more than 280 stalls selling all kinds of ornaments and typical Christmas gifts.
At the Santa Llúcia Fair, you can find a stall with the famous "caganer" (shiting man), a typical Catalan figure of the nativity scene. Traditionally, they were represented with farmers, but today you can find caganers of politicians, singers, public figures, etc.
3. Sant Esteve
It is a holiday that is celebrated on December 26, the day just after Christmas. Homage is paid to Saint Esteve who is part of the Christian tradition.
4. Gastronomy
There is no Christmas without gastronomic tradition. In Catalonia it is celebrated all Christmas Day, which is December 25, where the famous Catalan escudella and the carn d'olla are usually cooked, which is a typical Christmas broth, which will be the basis for the preparation of the famous Sopa de Galets, a broth with a specific type of pasta.
On the day of Sant Esteve, it is tradition to eat cannelloni as a family, as it is also a holiday in Catalonia.
Besides, there are also some traditional desserts such as polvorones, nougat, marzipan and neulas.
Barcelona in December
Visiting the city of Barcelona in December is always a wise move. You can enjoy the charming streets of Barcelona and the local cuisine, such as a Galets Soup in a traditional restaurant. Don't think twice!